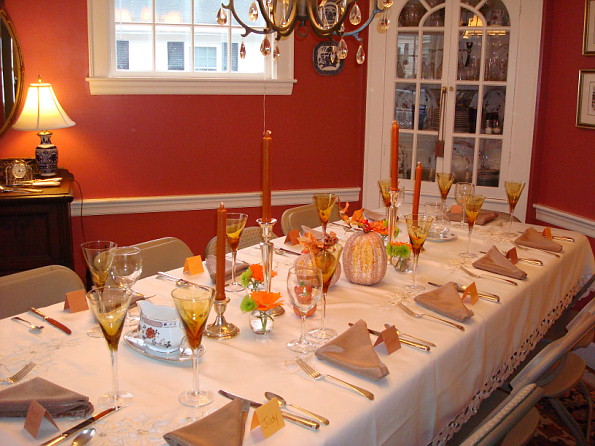 Just as you wouldn't show up for a holiday party without the proper attire, neither should your tables. With the holidays approaching and social calendars gaining momentum, you have most likely begun to think about what you are going to wear this season, but what about your tables? Don't they deserve to stand out in fine fashion, as well?
There's no doubt about it. You work hard to plan and prepare your fun holiday gatherings, celebrations and parties. How about accentuating the fabulous spreads you have for your guests with some amazing custom holiday tablecloths?  At Custom Vinyl Tablecloths, we help you make sure all of your holiday tables are fully dressed for the occasion at hand.
As we round the corner into Thanksgiving, consider creating a Thanksgiving tablescape. It's easy,
History of tablecloths? I know.  I can hear it now. Well, for everything that is in existence today, even something as mundane as Q-tips has a back story, and tablecloths are no exception. Besides, if you learn something new every day, then it is a good day, and the information in this blog post just might come in handy to create new dialogue at the dinner table the next time your family gathers.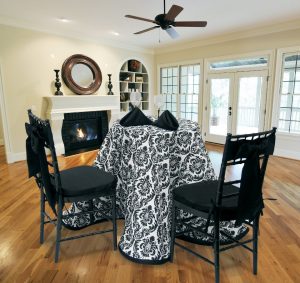 The tablecloth actually has quite an impressive historic resume and has been a popular and extremely valued household item for nearly 2,000 years. So, no…. these table coverings were not just your grandma's idea!
While not all history of tablecloths is 100% accurate, there is evidence to suggest that tablecloths were in existence back before 103 AD.
Custom Vinyl Tablecloths – In today's world of cost-conscious consumers who still demand value and quality for the money they spend, many are turning to vinyl tablecloths instead of cloth tablecloths, and the reasons why are certainly catching on!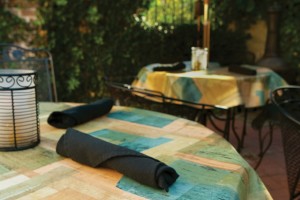 Although those elegant lace and cloth tablecloths are certainly attractive, the related price tags can come with a hefty sticker shock compared to commercial vinyl tablecloths or custom made tablecloths. At Custom Vinyl Tablecloths, we offer the best I custom size tablecloths, elastic tablecloths, plastic tablecloths, round vinyl tablecloths, vinyl table covers and vinyl tablecloths. No matter the size of the table (even those harder to fit ones!) and no matter the event or occasion, we've got you covered! Strong and durable, these custom