Custom Vinyl Tablecloths – In today's world of cost-conscious consumers who still demand value and quality for the money they spend, many are turning to vinyl tablecloths instead of cloth tablecloths, and the reasons why are certainly catching on!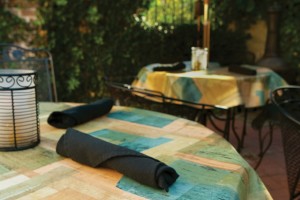 Although those elegant lace and cloth tablecloths are certainly attractive, the related price tags can come with a hefty sticker shock compared to commercial vinyl tablecloths or custom made tablecloths. At Custom Vinyl Tablecloths, we offer the best I custom size tablecloths, elastic tablecloths, plastic tablecloths, round vinyl tablecloths, vinyl table covers and vinyl tablecloths. No matter the size of the table (even those harder to fit ones!) and no matter the event or occasion, we've got you covered! Strong and durable, these custom made tablecloths can be used again and again without letting you – or your budget! – down.
Custom vinyl tablecloths are perfect for outdoor settings, too! As the weather begins to invite you to spend more time outdoors, thoughts of picnics and barbecues come to mind. Even if Mother Nature sports an attitude and throws down a bit of rain, you don't have to worry about water damage to your custom made plastic or vinyl tablecloth. These things are made to withstand the elements!
And if you want a perfectly-fitted tablecloth, we have a great selection of elastic tablecloths designed to hold themselves perfectly in place on the table. Even if children tug at it, there is less opportunity for your food and drink to spill. Plus, if the winds blow, your custom made vinyl tablecloth with elastic security will not blow away. When you have several people gathering around the table at your next barbecue, you can remain confident that your custom size tablecloth will prove its strength and durability throughout the event. You have so much more to think about than worrying if your tablecloth will stay in place!
The best part? We offer a wide range of colors and styles from which to choose, so if you want to dress up your table with something elegant or just simply add a splash of color to your outdoor décor and entertaining needs, our custom made vinyl and plastic tablecloths are the perfect answer!
After the fun and games, a custom vinyl tablecloth already has half the work done for you, too. Compared to lace and cloth tablecloths, which require washing and special care, a custom made vinyl tablecloth is super easy to clean. Just wipe it up with a clean, damp rag and that's it! This is a truly low maintenance product!
We are confident that when you use a custom made commercial tablecloth or custom made vinyl tablecloth, any event will be a happier event!
Visit our custom vinyl tablecloths website to see all of our designer vinyl and cloth fabrics to choose from! www.customvinyltablecloths.com