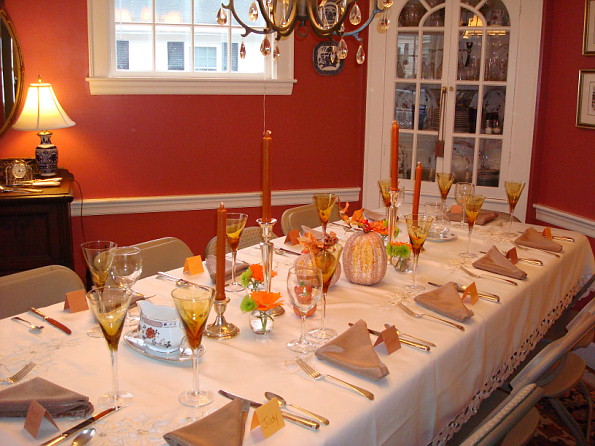 Just as you wouldn't show up for a holiday party without the proper attire, neither should your tables. With the holidays approaching and social calendars gaining momentum, you have most likely begun to think about what you are going to wear this season, but what about your tables? Don't they deserve to stand out in fine fashion, as well?
There's no doubt about it. You work hard to plan and prepare your fun holiday gatherings, celebrations and parties. How about accentuating the fabulous spreads you have for your guests with some amazing custom holiday tablecloths?  At Custom Vinyl Tablecloths, we help you make sure all of your holiday tables are fully dressed for the occasion at hand.
As we round the corner into Thanksgiving, consider creating a Thanksgiving tablescape. It's easy, fun and always a show-stopper.  All you need is a solid base, such as a chic tablecloth from Custom Vinyl Tablecloths. You can go with a holiday motif or rich fall-hued patterns.  Looking for a bit more glamour to add to your occasion? We can provide that, too. Your Thanksgiving feast will look even tastier when presented on one of our festive holiday tablecloths.
Fun tip:  While it's traditional to decorate at Thanksgiving with a color palette of pumpkin, orange and brown, consider incorporating some blues and purples to give your custom tablecloth presentation a bit more pop!  On the flip side, if you want your bounty of food to take center stage, then opt for a more neutral background with a softer-colored tablecloth.  If you enjoy coloring outside the lines, you may want to go with a vibrant neon orange color.
Low on floral arrangements? Not a problem! You can cover your holiday table with a flower-covered custom holiday tablecloth design that makes a bold statement without overwhelming the setting. Rosy floral patterns are a great partner for most any neutral backgrounds. Other fun ideas include a turkey motif or a falling leaves design for an enchanting ambiance to your custom tablecloth.
At Custom Vinyl Tablecloths, you can choose your size, your color, and your own custom design for any size or shape of table. If you have a pattern or design in mind but don't know how to bring that to life, let us know! Our team of experts can create a pattern for you simply based off your image. Or, simply choose from one of our existing custom tablecloth patterns.
No matter the color, size or design you use for your tablecloth, every table deserves to add its own element of fun and personality to your holiday festivities.  At Custom Vinyl Tablecloths, we have a variety of custom vinyl and cloth holiday tablecloths to make your tables the talk of the town!  Add style, color and fun to your celebrations this year with help from Custom Vinyl Tablecloths.  We've always got you covered. Remember!  A great custom tablecloth design is the foundation of any great holiday table setting! You worked hard on that fabulous holiday dinner. A custom tablecloth from Custom Vinyl Tablecloths will let you present it with pride.